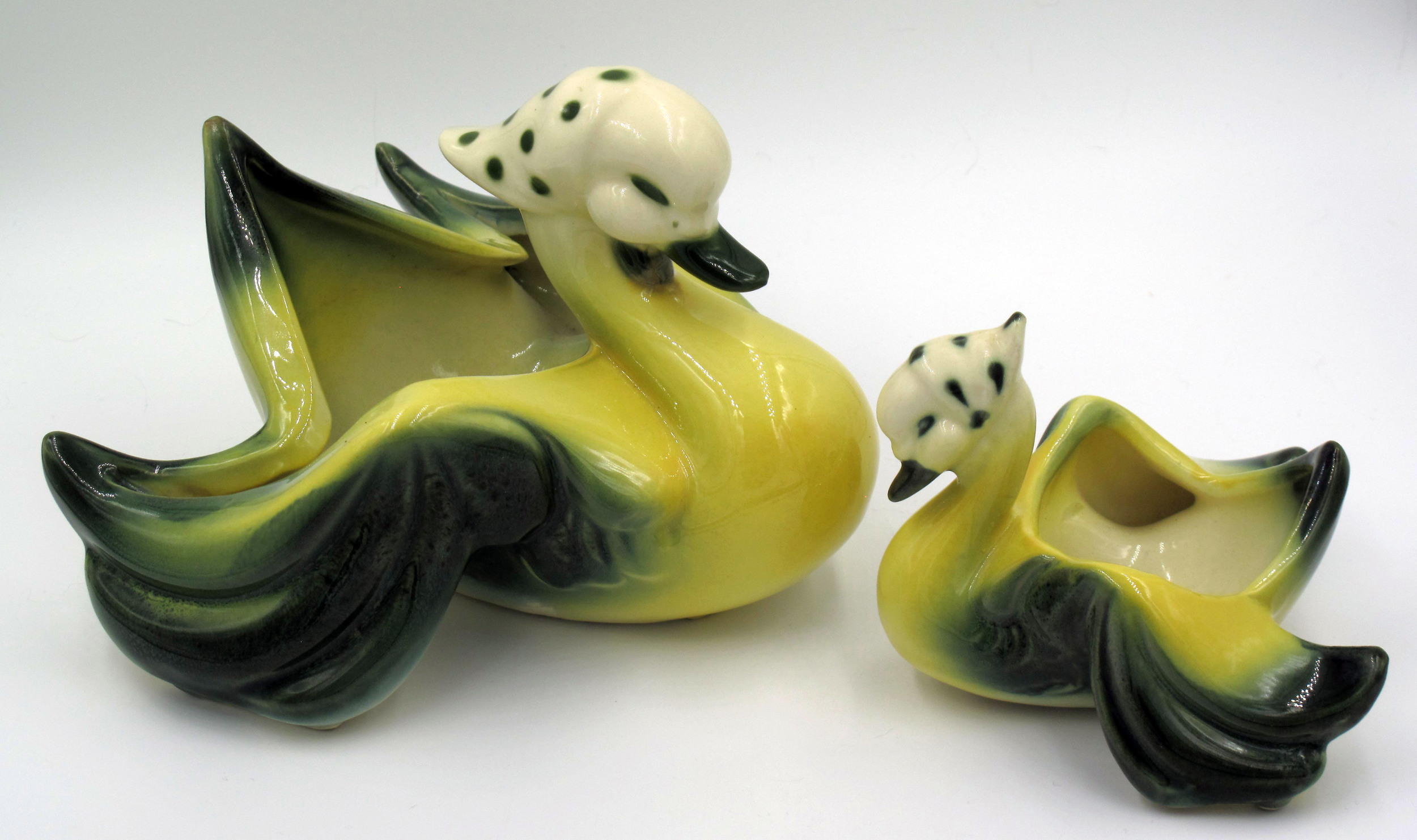 hull usa
ravishingly retro
history
Hull Pottery was founded in Crooksville, OH in 1905 by Addis Emmet (A.E.) Hull. The company grew quickly and in 1907 Hull Pottery bought the Acme Pottery Company which was also based in Crooksville, OH.
The company's initial lines consisted of common practical pottery, porcelain dinnerware, and decorative tile, and the company quickly established a good reputation for making high quality ceramics and therefore did very well in the market.
In 1917 Hull Pottery began making art pottery as well as the commercial wares, and from 1921 to 1929 the firm also sold pottery imported from Europe as they realized that importing European art pottery for resale was actually considerably cheaper than manufacturing its own.
In the 1920's Hull Pottery established its general office and factories in Crooksville. They also had offices and showrooms in New York, Chicago and Detroit. The largest of their warehouses was in New Jersey. As the company's success grew, Hull began experimenting with a line of art pottery and also began using a wider variety of colors and glazing techniques.
With the company expanding, Hull built a 310-foot kiln in 1923 and this investment increased production capacity by more than 3,000,000 pieces per year! Combined with the plant Hull purchased from Acme, the company's overall production was almost 8 million pieces of pottery annually.
From 1927 to 1929, the company mainly produced decorative tile primarily for the William H. Jackson Company. These tiles were made on special order and were fairly expensive. Hull produced two types of tile—plain and faience.
In 1929, after the depression struck, Hull stopped importing from Europe and focused again on domestically produced pottery. They continued to produce large quantities stoneware in order to maintain revenue streams, and The American Clay Products Company marketed the semi-porcelain and stoneware items that Hull produced.
A.E. Hull died in 1930 and Addis E. Hull, Jr. succeeded his father in the management of the business but left the company in 1937 to become the General Manager of the Shawnee Pottery Company. Gerald F. Watts became the new manager. During this timeHull produced about 11 million pieces for New York's Shulton Company for its Old Spice brand. They produced Old Spice lotion bottles, shaving mugs, and cologne containers.
After World War II, when the "Buy American" campaign was in full force, Hull was well protected from international competition and as the 1940's came to a close they began producing pastel-tinted art pottery pieces that eventually defined the "Hull look." Matte finished vases, baskets, and other pieces came in a variety of colors were produced as was the Rosella line that were high-gloss.
In 1943 the Red Riding Hood cookie jar was released and this was a home run for the company. The item was so popular that well into the 1950's Hull created a full theme line and crafted the pieces and sent them to the Royal China and Novelty Company in Chicago to be decorated. During this time Hull also produced another successful lines called the Floristware. These pieces were usually decorated with matte pastel finishes that had floral themes that included orchid, magnolia, calla lily open rose, iris, and tulips. They also produced cookie jars in several styles, including a bean pot, a baby, and an apple. Hull also produced a variety of novelty items: piggy banks, lamps, figurines, and liquor bottles. In fact, from the 1940's through the 1960's a plants delivered from a florist were often contained in a Hull pot or figural planter!
In June 1950 tragedy struck when Hull's plant burned down after a catastrophic flood; however, the company was not lost as its resonating high quality reputation and overall popularity made for continual orders from customers - even while the plant was closed. In other words, this meant waiting months for orders to arrive as the plant was built and this did not bother the purchasers! The new plant re-opened on January 1, 1952.
From 1952 onward, under the leadership of J. B. Hull, the pieces were no longer marked with "Hull Art U.S." or the "Hull U.S.A." but were rather simply marked "Hull." Also, during this time, the A. E. Hull Pottery Company's name was changed to the Hull Pottery Company, as it resumed production at about 100,000 items per week.
With the new factory came many new products. These included florist ware, kitchenware, and various novelty items. For example, from 1957 to 1958 Hull produced about thousands of piggy banks per day!
Throughout the 1950's and 1960's the company continued to expand its product lines as to stay stylistically current. This lead to new lines like Ebb Tide, Tropicana, Continental, Parchment and Pine, and Tokay.
In 1960 the Hull's "House 'n' Garden" line debuted; these durable and multicolored serving pieces came in multiple colors so it is not surprising that Hull advertised these pieces as an attractive "rainbow table." In 1965 they produced Crestone.
By the mid-1970's Hull's production was about ¾ casual serving pieces and ¼ floral pieces, and by the 1980's this balance shifted to primarily casual serving pieces.
J.B. Hull died in 1978 and Henry Sulens succeed Hull as President of the company, as did Larry Taylor at a later period.
Unfortunately, the mid-1980's brought about multiple union strikes and foreign competition, and in March 1986 the company ceased operations after 81 years in business.
The building was eventually sold to the Friendship Pottery Company, and in August 1993 the building caught fire during renovation and was destroyed.
Sources:
www.wikipedia.org/wiki/Hull_pottery
www.hullpotteryassociation.org/hull-pottery-history/
www.collectorsweekly.com/art-pottery/hull